Tämä sivu on tulostettu eProgress-sivustolta perjantaina 3.12.2021 klo 9:29

Etusivu > Releases
Releases
Conference "Russian Modernization with Finnish Expertise" at St. Petersburg Technical Fair - Promotion of Competitiveness of Companies with Workshop
InnoBus -project took part in St. Petersburg Technical Fair Exhibition and the conference Russian Modernization with Finnish Expertise. Promoting modernization or in other words raising companies' competitiveness is essential for companies both side of the border. Cooperative attitude is highly appreciated and thematic get-togethers form fruitful ground for creation of innovations and practical cooperation of companies and organizations.
With the frames of St. Petersburg Technical Fair a training programme for modernization of Russian small and medium sized companies was launched. About ten companies and innovation promotion related organizations were registered to the programme which started with first workshop on 13.3.2013 in St. Petersburg. Programme consists of three thematic workshops and 1-3 individual consultation. The theme of the first workshop was
Progress
, a tool for analyzing company's processes, willingness and ability to grow, bottlenecks in development etc. In individual consultations companies are able to get deep in their company's actions with highly devoted expert by test-using Progress tool. As a result of the training and consultations companies get individual plan of modernization for their company and also a certificate of participation to the training. Next workshop will be held in the end of April in St. Petersburg.
http://www.innobus.fi/home
Progress present in the Tools Exchange Forum, London 18.-19.10.2012
The Tools Exchange Forum 2012 is an exchange and collaborative platform designed specifically for BICs, Innovation-­‐based Incubators, Accelerators, Science and Technology Parks, Entrepreneurship and Innovation Centres.
Progress, designed by Prizzway Ltd, was selected among the 20 tools. We are targeting the international markets and we want to find partners to start as a Progress operator for the sales and product launch, says CEO Jari Järnstedt.
Detailed information of the Tools Exchange Forum you can find under the link
http://ebn.youreuevent.eu/index.html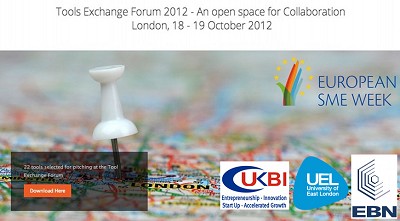 Progress in the center of TRIOplus project

Project Director Harri Jokinen
The mission of the Federation of Finnish Technology Industries is to ensure that the Finnish technology industry has the preconditions for success in the global marketplace. Federation of Finnish Technology Industries launched 2010 the TRIOplus project to implement their mission.
The TRIOplus project in Finland has created during two years 800 business contacts and resulted in the 300 development programs by companies. The summary according to the companie's own development programs shows the strong growth potential. The goal is an average expand three times the present sales in the next three years, says Project Director Harri Jokinen.
At more than a billion euros in operating income increase has a very positive impact to the number of jobs in Finland. These companies exceed brightly the growth company definition. A broad number of partners have helped companies to build their development programs by using the Progress model and tools. More than 80% of the companies involved recommend Trio Plus development program service to others.
http://www.teknologiateollisuus.fi/fi/palvelut/in_english.html
Progress model won the TEKEL "a new opening" competition.
Progress model was chosen as the new technology opening by the TEKEL (Association of Finnish Science Parks) in 24.11.2011. The selection criteria were innovativeness, applicability on a larger scale, the importance of technology operations and effectiveness.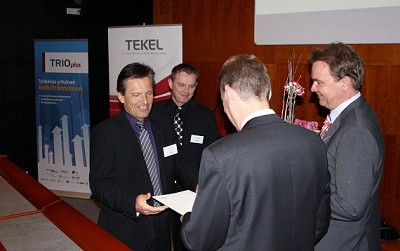 TEKEL delegation Pasi Mäkinen CHAIRMAN and Jaakko Helenius CEO (in the front) and Jari Lauronen (in the rear) gave the TEKEL award to Jari Järnstedt CEO, Prizzway Ltd
Pohjoisranta 11 D, 28101 PORI • puh. +359 44 710 5340 • etunimi.sukunimi@prizz.fi